About NinjutsuShop
About NinjutsuShop

Ninjutsu online Store Direct from Japan
"Ninjutsu Practitioners Serving Practitioners Around the World!"

PROFIL
I am Mr Jerome Pailliette, French expatriate in Japan since 2006.
Manager of this shop, I practice Ninjutsu for over 30 years and teaches for Japanese peoples and foreigns visitors to Kyoto
Since my childhood I have a deep interest and passion for Japan, religion & traditional Japanese culture. It is at the age of 8 years that I discovered the martial arts practicing for 7 years Karate Shotokan
During this period I do many courses of Karate with the great master Kaze (missing), the equipment of France Karate (Giovanni Tramontini, Jacques Tapol) All the same during the Kumite, but I feel quickly frustrated and limited by the rules, the absence of techniques to the body (seizures, keys, strangulation, dislocation, projections ...) and decides to stop at the shodan level the practice of Karate
Always deeply attracted by the complete martial art of Ninja (Ninpo)
it was in 1988, next to my friend Dr. Kacem Zoughari that I started the practice of Ninjutsu Tissier Circle (Vincennes) 94, taught at that time by Sylvain Guintard, the pioneer in France Ninjutsu Bujinkan.Après his departure precipitated for Japan, I continued the practice with Mr. Samir Saad who also a few years later will leave for the USA ... Orphan, disappointed and resigned continued the Ninjutsu with his replace Arnaud Courserge.
Sincerely Dissatisfied with the poor teaching of Ninjutsu given in France with his nickname "Master Ninja"
I decided in 1999 to go to Japan, to train at the source at Bujinkan Hombu Dojo and see my own eyes Ninjutsu techniques practiced and taught by Soke and the Japanese shihan.
This will be my first meeting and conversation in Japanese with Master Hatsumi Masaaki, (34th Soke successor to Togakure Ryu Ninpo)
After a hard training, I receive directly from Master Hatsumi the rank of 4th Dan
Between 2003 and 2006 in a professional and touristic frame I made many trips throughout Japan.
Then in November 2006, I decided to settle permanently in Kyoto.
---
Professional experience of Ninjutsu in Japan
Finally installed in Kyoto, between 2006 and 2010 in addition to small additional jobs called "'Arubaito" in the catering and other sectors, I give self defense classes (Ninpo Goshinjutsu) in several gyms and fitness of the city of Kyoto (Inspa, Healpia21, Imadegawa Sport Club)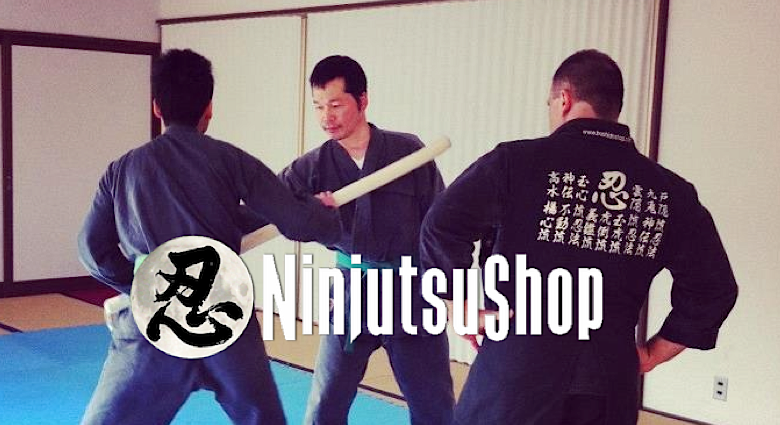 ---

What am I....
To be and not to appear
My whole life is devoted to Ninjutsu.I am what I am (to be) that's why I am what I am (Follow)
I am only a simple and humble practitioner and teacher of Ninjutsu and am completely satisfied.
I practice without desire for profit, ego, arrogance or thirst for recognition.
I only share with those who really lend their ear and share the same passion, beliefs and lifestyle.
I inspire only the higher self and in accordance with the spirit of Fudoshin, I abstract and ignore criticisms and rumors from the world of ignorance, hatred, aversion and jealousy.
Each I do not forget the pure and sincere heart of the beginner and remain deeply attached to my inspirations and convictions of the beginning.
? ? ? "Sincerity, cultivate your sincerity and you will realize the ultimate truth of manifest and hidden are one ..
" Dr. Kacem Zoughari
---
Ninjutsu Shop all High top Ninjutsu equipment "Made in Japan" For Ninjutsu training
NinjutsuShop was created primarily by passion for Ninjutsu but also from a simple observation
Out of ignorance, many do not know what he is buying.
Many non-specialized shops offer for sale low-end products made in China, intended for fans of cosplay & "Ninja turtles.
Even if the attractive prices displayed can satisfy the small scholarships of the students, unfortunately the authenticity, the quality and longevity of the products is not at the rendezvous.
In addition, after searching the net we found that there was no specialized Ninjutsu shop run by qualified and qualified practitioners to inform and recommend suitable equipment for the good practice and progress of Ninjutsu.
"We only know what we practice"

Montesquieu

September 21, 2017 NinjutsuShop is born.The shop is open to the public.

On NinjutsuShop you will find a complete selection of NinjutsuGi, Shinobi Shozoku, Tabi & Jikatabi Kyahan & Tekkou from the catalogs of the most prestigious Japanese brands of Tokaido Karate, Tokyodo, Hirota, Mitsuboshi, Kusakura, Isami & Marugo Tested and approved by our team

For more than 10 years, we have worked closely with all Japanese equipment manufacturers and workshops Ninjutsu, to guarantee you 100% the best of Japanese quality at an affordable price.
Our ambitions and dual objectives:
Shop
You understand, NinjutsuShop, Japan's main mission is to offer you a sale at reasonable prices for quality material for your practice and good progress, but also to share with you our passion for Ninjutsu & federate all practitioners and organizations
Blog
Through our blog we will inform you of our news, share and exchange with you on the teaching and practice of our dojo and Bujinkan hombu dojo
Forum
This site allows us to keep in touch with all the French-speaking practitioners of Ninjutsu and the whole world In order to be able to exchange our experiences and knowledge, in the near future we plan to set up on our site a quality forum intended only for the practitioners and teachers of Ninjutsu, members of Bujinkan, GenbukanJinenkan and other organizations, serious dojos.
If you feel concerned, you are invited to participate.
Feel free to contact us for any questions, requests for information about our products, partnership proposal and others.
We remain open to any suggestions.
If you like our site, because you can not place an order, you can always recommend us around you, and / or share our content and / or follow us on social networks.
We thank you in advance for your kindness.
(Sorry for my bad english)
Best regards
Jérôme Pailliette
?????????
Kyoto Ninjutsu FudoShin Dojo Japan
????